Our bodies need vitamins to function optimally. They're absolutely crucial! Among these vital nutrients, vitamin D and K2 play essential roles in improving our overall health. In this article, we'll delve into the fascinating world of these two superheroes and how they work together to benefit our well-being.
Unlocking the Vitamin D and K2 Benefits
Vitamin D and K2 form a powerful duo, working in harmony to support various aspects of our health. They contribute to bone and heart health, and they help to bolster our immune system (Pludowski et al., 2013). But the vitamin D and K2 benefits don't end there – they also influence other aspects of our health in surprising ways.
Calcification and Balancing Vitamin D and K2 Benefits

Calcification is a process that refers to the deposition of calcium in our tissues. When we take high doses of vitamin D without K2, we risk developing kidney stones (Cavalier et al., 2019). This happens because the balance between the two vitamins is disrupted, leading to harmful consequences. Achieving the right balance between vitamin D and K2 is essential for maintaining good health.
Safe Vitamin D Intake with K2
Worry not! Daily vitamin D intake of 5000 IU and higher is safe when combined with 200mcg K2. This powerful combination ensures a healthy balance, keeping our bones strong and our hearts in optimal condition. In fact, research has shown that adequate vitamin D and K2 intake can help prevent cardiovascular diseases and other ailments (Cavalier et al., 2019).
The Battle of Vitamin K2-MK7 and K2-MK4
Did you know that there are two different forms of vitamin K2? They are K2-MK7 and K2-MK4, and they have distinct characteristics. Vitamin K2-MK7 has long-lasting effects, while K2-MK4 boasts a quicker uptake (Schurgers et al., 2007). Bioavailability is a critical factor, and each form has unique advantages for our health.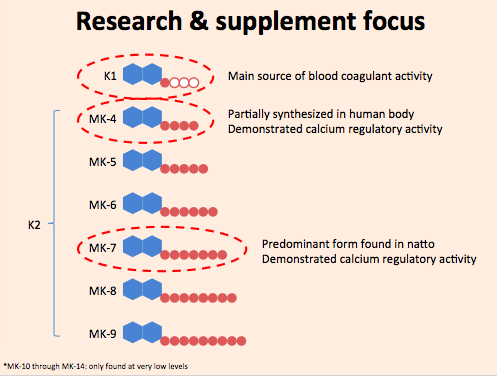 The Role of Vitamin K2-MK7
Vitamin K2-MK7 is derived from natto, a fermented soybean product. It has a longer half-life, which means it stays in our bodies longer, providing sustained benefits. Researchers have found that K2-MK7 is particularly effective in supporting bone health and reducing the risk of fractures (Schurgers et al., 2007).
The Role of Vitamin K2-MK4
Vitamin K2-MK4, on the other hand, is derived from animal sources. It has a shorter half-life, which means it gets absorbed and utilized more quickly by our bodies. Studies have shown that K2-MK4 can help promote cardiovascular health and prevent arterial calcification (Schurgers et al., 2007). Understanding the differences between these two forms of vitamin K2 can help us make informed decisions about our supplementation choices.
The Dream Team: Vitamin D, K2, and Magnesium
Vitamin D, K2, and magnesium are a dream team when it comes to supporting our health. These nutrients work in synergy, providing a wide range of benefits. Magnesium, in particular, is required for enzymes involved in vitamin D synthesis (Uwitonze & Razzaque, 2018). It's like a perfectly choreographed dance, with each nutrient playing its part in maintaining our well-being.
Sunfluencer Sun is one of the few products on the market that offers a unique blend of vitamin D, K2, and three forms of magnesium. This powerful combination provides comprehensive support for those embracing a western lifestyle and seeking the numerous benefits of vitamin D and K2. By including this product in your daily routine, you can ensure that your body gets the essential nutrients it needs for optimal health.
The Importance of Vitamin D and K2 in Our Western Lifestyle
Our western lifestyle often leaves us with insufficient exposure to sunlight, leading to inadequate vitamin D levels. At the same time, our diet might not provide enough vitamin K2, which is primarily found in certain fermented foods and animal products. This combination of factors underscores the importance of supplementing with both vitamin D and K2 to maintain good health.
Moreover, the prevalence of processed foods and sedentary lifestyles in the western world can increase our risk for various health issues. By supplementing with a product like Sunfluencer SUN, which contains essential vitamins and minerals, we can take a proactive approach to counteract these risks and promote a healthier lifestyle.
In summary, understanding the vitamin D and K2 benefits is crucial for maintaining optimal health, especially in our western lifestyle. By exploring their roles, achieving the right balance, and choosing suitable supplementation, we can unlock the secrets to improved well-being. Embrace the powerful duo of vitamin D and K2, and experience the myriad benefits they have to offer!
References
Cavalier, E., Huyghebaert, L., Rousselle, O., & Bekaert, A. C. (2019). Vitamin D, K, and the prevention of cardiovascular and kidney diseases. vitamin d and k2 benefits. Critical Reviews in Food Science and Nutrition, 59(15), 2416-2425.
Pludowski, P., Holick, M. F., Pilz, S., Wagner, C. L., Hollis, B. W., Grant, W. B., … & Soni, M. (2013). Vitamin D effects on musculoskeletal health, immunity, autoimmunity, cardiovascular disease, cancer, fertility, pregnancy, dementia and mortality – a review of recent evidence. vitamin d and k2 benefits. Autoimmunity Reviews, 12(10), 976-989.
Schurgers, L. J., Teunissen, K. J., Hamulyák, K., Knapen, M. H., Vik, H., & Vermeer, C. (2007). Vitamin K-containing dietary supplements: comparison of synthetic vitamin K1 and natto-derived menaquinone-7. vitamin d and k2 benefits. Blood, 109(8), 3279-3283.
Uwitonze, A. M., & Razzaque, M. S. (2018). Role of magnesium in vitamin D activation and function. vitamin d and k2 benefits. The Journal of the American Osteopathic Association, 118(3), 181-189.